Applications invited for interest free education loan
Human Development Foundation is inviting applications from various education boards only from poor meritorious students who have passed Madhyamik / Equivalent examination in 2022 for disbursement of interest free education loan under "Medha Lalan Scheme".
The prescribed application form can be collected directly from the office of the foundation or from the website of the foundation. "Application Form" PDF are Bellow This Content
Bank education loan
Last date to fill and submit the application form is 30th March 2023. Application form can be submitted by post or directly at the office (9.30 am to 4 pm on days other than Friday, Saturday and public holidays).
LIST OF SCHOLARSHIPS ON APPLICATION:

The Ministry of Education is providing financial assistance to the students
Financial Grant Application Procedure…
Chandpur District Parishad Scholarship
Chittagong District Parishad Scholarship
Sylhet Zilla Parishad Scholarship
Noakhali Zilla Parishad Scholarship
Documents to be attached with the application form:
(a) Secondary Examination 'Transcript' or mark sheet attested by the Headmaster of the school from which the Secondary Examination was passed.
(b) One character certificate from the Headmaster and another character certificate from a responsible dignitary outside the school (preferably if he is an educationist).
(c) Confirmation as per the instructions contained in Serial No. (10) and (11) of the
application regarding the location of the school from which the applicant has passed the secondary examination.
(d) Certificate regarding occupation and income of father/mother/brother/guardian as per instruction of Serial No. (14), (15) and (16) of application form.
Education Loan Education Loan
(e) 2 recent passport size photographs.
(f) 2 Essays (of 200 words each) written in the applicant's own hand. One about the current status of one's family (in Bengali), that is,
what is the current economic problem of the family, how is the family's maintenance going on, detailed and specific details of
who among the family members are doing what etc. and the other is about the goal of life (in English).
Interest free education loan will be disbursed subject to the following conditions:
Only poor meritorious students who have passed Madhyamik examination in 2022 can apply.
For those who have passed from science department, minimum GPA should be 4.4 for schools located in district headquarters
and minimum GPA 4.2 for schools located outside district headquarters.
A minimum GPA of 4.2 will be considered for students of departments other than
Science who have passed from schools located in district headquarters
and a minimum GPA of 4.0 for schools located outside district headquarters.
All Bank Education Loan
This condition is relaxable subject to the special consideration of the foundation
authorities in the case of girls passed out from schools located outside the district headquarters.
Interest less education loan
1150/- per month at higher secondary level and 1700/- for general subject at graduation level and 1800/- for technical subject (MBBS, Agriculture and
Engineering up to final examination of B.Sc) at the rate of 1800/-.
This loan has to be repaid in 4 installments every year for the next five years starting two years after the completion of education.
In addition to this loan, a non-repayable grant will be made for books and teaching materials every academic year.
All Bank Scholarship
Grants per academic year at the rate of Rs.700/- for science students at higher secondary level, Rs.500/- for humanities/commerce students and Rs.1000/- for general subjects at graduate level and Rs.2000/- for technical subjects (MBBS, Agriculture and Engineering) will be given
This loan will continue till the completion of the education course of the students
from higher secondary level (i.e. graduation in general subjects and in some cases post graduation in any university of Bangladesh;
MBBS in medical subjects and BSc in agriculture and engineering till the final examination).
However, if someone passes the third category in any final examination at the
higher secondary or graduation level or if the GPA is below 3.00, this loan will be stopped.
If there is any break in the education of the borrower or if the educational results are
unsatisfactory or if the loan conditions are failed to be fulfilled, the loan will be stopped.
In that case, the entire loan taken up to that time must be paid in 4 installments every year within 5 (five) years.
Students selected as members of Medha Lalan Scheme must participate in
extra-curricular activities organized by the Foundation during the loan period.
Any holiday may be required to stay anywhere in Bangladesh as part of extra-curricular activities.
All expenses necessary for participation in extra-curricular activities will be borne by the Foundation.
If the students are not able to participate in the rural activities, alternative activities will
be taken for them and participation in those activities will be compulsory for them.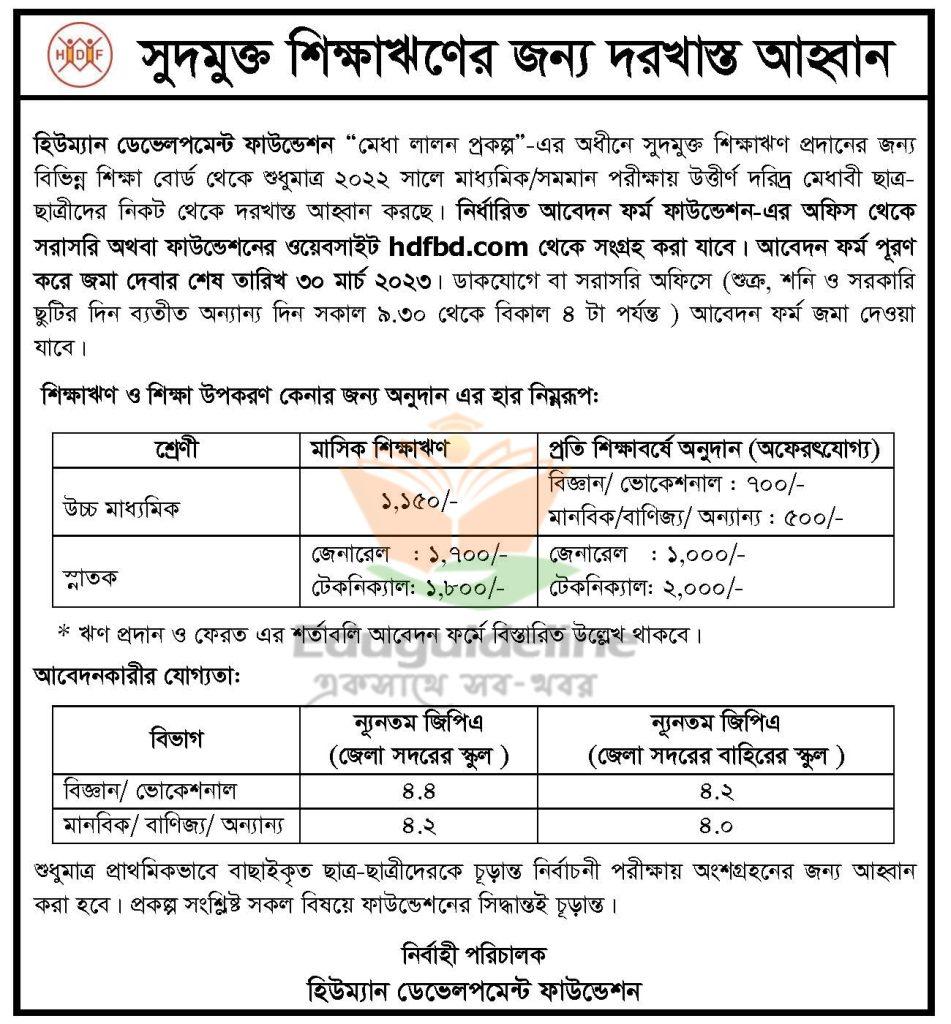 Bank Scholarship Circular
This loan will be considered as repayable debt.
No other surety/confirmation will be required other than the parent/guardian
and the borrower student/student jointly giving an undertaking to repay the loan.
Selection and selection of students and any other matter related to this project is the final decision of the foundation.
All bank education loan
Any kind of lobbying/recommendation will be considered disqualification of the candidate.
Only those who are initially selected will be called for the final selection.
Those who are eliminated from the primary election will not be notified by a separate letter.
To Know More About Scholarship News (Domestic & International) & Admission News,  Please Visit Our Website Regularly.