Bangladesh Military Institute of Science and Technology ; MIST Admission Circular 2022 has been Published. MIST Admission Form 2021-22 can be filled through admission website admission.mist.ac.bd.
Applications are invited from Bangladeshi citizens who have passed HSC/GCE or Equivalent Examination (Science Group) from home and abroad for admission in MIST Undergraduate programs (Engineering and Architecture).
Eligible and interested candidates need to apply online. After the online application deadline, the eligible candidates list will be published and the admit card will be published.
MIST Admission Circular 2022
Admission test will be held according to the prescribed seat plan. Admission activities will be completed from the merit list and waiting list after the publication of the MIST Admission Result.
There will be Two Units namely Unit A (Engineering Programs) and Unit B (Architecture) for Undergraduate Programs. The total seats allotted shall be 570 for A and B both Units.
Military Institute of Science and Technology Admission Timeline 2021-22
Application Start: 17 February 2022
Application Deadline: 5 March 2022
Admission Test Date: 18 March 2021
Admission Centers: Dhaka, Cumilla, Chattogram, Khulna and Bogura.
(Applicant must select the desired admission test Centre while submitting application online)
MIST Admission TesT Circular 2022
MIST Mark Distribution & Examination System
There will be NO Multiple-Choice Questions (MCQ). Questions will be in both English & Bangla and applicants can answer either in English or Bangla. The marks distributions for both units are as follows:
No mark is allotted for S.S.C / H.S.C / Equivalent results. Merit list will be prepared on the basis of Written Test only. Minimum qualifying marks in the written test is 40% for both Unit A and Unit B.
Five percent (5%) marks will be deducted from the written test for the candidates passed HSC in 2019. Thereafter, a Combined Merit List (candidates passed HSC in 2020 and 2019) will be prepared for the admission and department allocation.
Mist admission 2022
Qualifications to Apply
SSC (or Equivalent): The applicants who passed the examination in 2019 & 2018 in Science Group obtaining a minimum GPA 4.00 (without fourth subject) in the scale of 5.00.
HSC Examination (or Equivalent): The applicants who passed in 2021 & 2020 obtaining a minimum total Grade Point 17 in four subjects (Mathematics, Physics, Chemistry and English).
GCE ('O' and 'A' Levels or Equivalent):
(1) The applicants who passed in 2019 & 2018 with minimum 'B' grade in five subjects including Mathematics, Physics, Chemistry and English in GCE 'O' Level.
(2) The applicants who passed in 2021 & 2020 with minimum two 'B' grades and one 'C' grade in Mathematics, Physics and Chemistry in GCE 'A' Level.
Applicants interested in Biomedical Engineering, must have Biology at HSC or Equivalent level with a minimum grade point of 'A-'/ GCE 'A' or Equivalent level with a minimum grade point of'C'.
MIST Admission Circular Form 2022
Application Form Submission. Application to be submitted online through MIST website (www.mist.ac.bd) only.
After successful submission of application, applicant will receive a USER ID online. With that USER ID, the applicant needs to send an SMS to 16222 from Tele-Talk prepaid mobile phone with required balance.
Application fee is Tk 800 (Eight hundred) for UNIT A and Tk 1000 (One thousand) for UNIT B and UNIT (A+B). Detailed instructions for e-Application and Fee submission is given in the MIST website.
On successful completion of both, applicant will receive a password through SMS using which an eligible applicant can download an Admit Card.
Required Documents for Quota Applicants.
a. Freedom Fighter. Related Bangladesh Gazettes / temporary certificate issued by Ministry of Liberation War Affairs / LalMuktibarta / Indian List / Certificate from Bangladesh MuktiJoddha Sangsad and relationship certificate with freedom fighters.
b. Military Ward (Children of Military Personnel).
(1) Serving. Certificate from Organization Head / authorized officials.
Mist Admission Circular 2022
(2) Retired
(a) Officers. Certificate from CORO / Naval Secretariat / Air Secretariat.
(b) JCO/ OR/ NC(E) of Army / Navy / Air Forces: Certificate / Service Record Book from respective Arms / Service's Record Offices/Drafting Office.
c. Tribal. Certificate issued by local Upazilla Chairman and counter signed by District Commissioner.
d. For all quota applicants, above mentioned original documents (hardcopy) must be submitted to MIST Admission Office by 22 February 2021 for quota authentication / verification.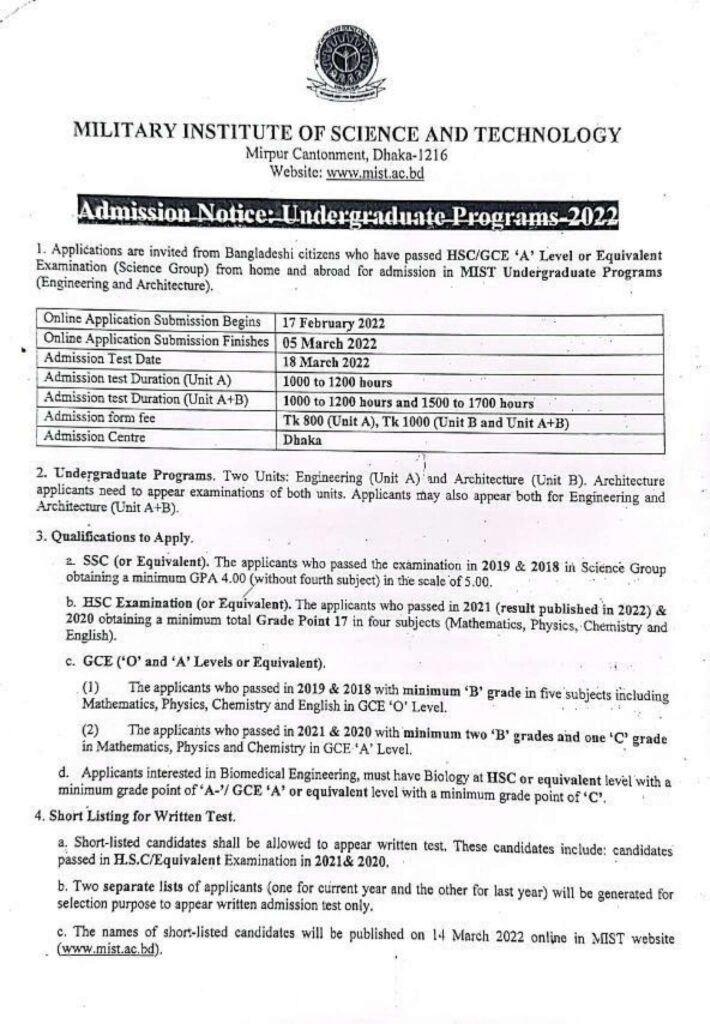 Admission will be canceled if any incomplete/false information is found at any stage of the admission/academic process.
Further clarification may be sought from MIST website (www.mist.ac.bd) and Admission Help Desk (01769024090/01769024094).
mist admission circular 2022-23, mist admission circular 2021-2022, MIST msc Admission Circular 2022, MIST Circular 2022, MIST Admission 2022
To Know More About Scholarship News (Domestic & International) & Admission News, Please Visit Our Website Regularly.